Home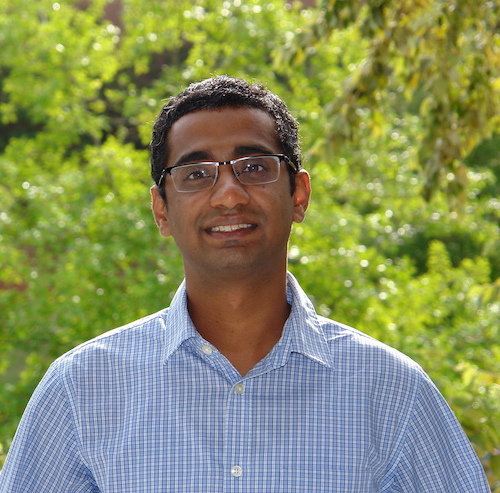 I am an Associate Professor in the Department of Mathematics at North Carolina State University. I work on
Numerical Linear Algebra
Inverse Problems and Imaging
Uncertainty Quantification
with applications to medical imaging, environmental science, and other areas of scientific computing and data science.
My work is highly interdisciplinary; I am looking to collaborate with researchers from mathematics, computer science, engineering, and medicine.
Contact
Email: email
Office: 3118 SAS HAll
Phone number: (919)-513-2299
Awards and Honors
NSF CAREER Award. Role: PI. Amount to NC State: $400,000.
NSF Award DMS-1745654. Role: Senior Personnel. Amount to NC State: $2.1 Million.
NSF Award DMS-1821149. Role: PI. Amount to NC State: $140, 000.
Travel award to attend Householder XX symposium, 2017.
NSF Award DMS-1720398. Role: PI. Amount to NC State: $104, 942.
Featured article on Inverse Problems website and Highlights of 2015.
SIAM Early career travel award to attend SIAM Geosciences (2015).
Water Resources Research /Editor's Choice Award (awarded to 1% of all papers published in Water Resources Research, 2012).
Second Place Poster Presentation award, SIAM CSE '13, (2013).
JNCASR Summer undergraduate research fellowship (2006).
Students and Postdocs
Benjamin Daniel, joint with Ilse Ipsen (PhD, 2019-Present)
William Reese (PhD, 2019-Present)
Ethan Dudley, joint with Alen Alexanderian (Masters, 2018-2020)
Elizabeth Hermann, joint with Alen Alexanderian (PhD Candidate, 2017-Present)
Rachel Minster (PhD Candidate, 2017-2020)
Katrina Petroske (PhD Candidate, 2016-2020)
Valerie Taylor (Masters, 2017-2018)
Dr. Sarah Vallelian website (2015-2017)
News
July 13-24, 2020. I worked with three wonderful high-school teachers to develop new teaching materials that can be used in high-school curriculum. It is also made it to the department homepage.
July 6, 2020. I gave a tutorial on Randomized Numerical Linear Algebra at SIAM/CAIMS Annual Meeting 2020. Thanks to Joseph Hart and Dale Smith for the invitation.
April 29. 2020. Elizabeth successfully defended her thesis. Congrats Elizabeth! She will join Katrina at the Johns Hopkins APL.
April 15, 2020. Ethan Dudley will start a PhD position at University of Maryland. Congrats Ethan!
March 26, 2020: I gave a talk at the ICERM's Algorithms for Dimension and Complexity Reduction Workshop, virtually of course. Here is a video of my talk.
March 2, 2020: Katrina successfully defended her thesis. Congrats Katrina! She will start a job at the Johns Hopkins Applied Physics Laboratory.
February 1, 2020: Irina Kogan and I coorganized a workshop along with the Triangle Math Circle. Dr. Linda Green led a discussion on 'The Watermelon Problem – Slicing and Dicing with Lines and Planes', and I talked about `Imaging – "Seeing" what is Invisible to others'.
October 11, 2019: I gave a talk in the Applied Mathematics Seminar, Michigan State University. Thanks Yang Yang for hosting me!
October 5-6, 2019: Our department is celebrating its 130th year anniversary.
September 19-20, 2019: I gave a talk at the Smith Colloquium, Kansas University, Lawrence. Thanks to Agnieszka Miedlar and Paul Cazeaux for hosting me!
August 4, 2019: I spoke in a minisymposium at Conference on Modern Challenges in Imaging: In the Footsteps of Allan MacLeod Cormack On the Fortieth Anniversary of his Nobel Prize. Excited to be a part of this conference! I got to meet the family of Allan Cormack.
July 15-25 2019: I was a Faculty Mentor in the IMSM 2019 Graduate Student Workshop.
April 2019: Rachel Minster successfully passed her qualifying exam. Congrats Rachel!
May 2019: I gave a talk to the Triangle Math Teacher's circle on the mathematics behind medical imaging.
April 2019: Elizabeth Herman successfully passed her qualifying exam. Congrats Elizabeth!
March 2019: I gave a talk at SIAM Geosciences. Thanks to Sanghyun, Jonghyun and Matthew for the invitation.
February 2019: Our group visited Spokane for the SIAM CSE Conference 2019!
February 2019: The College of Science wrote a nice article on my NSF CAREER award.
October 2018: Our RTG group was featured on the College of Science website.
July 15-25, 2018: I was a Faculty Mentor in the IMSM 2018 Graduate Student Workshop.
A minisymposim organized in collaboration with Julianne Chung and Eric de Sturler was featured in SIAM News.
May 2, 2018: Katrina successfully passes her preliminary exam. Congrats Katrina!
April 17, 2018: I gave a talk at SIAM Conference on Uncertainty Quantification.
March 25-30, 2018: Visited Copper Mountain conference on iterative methods. Katrina and I gave presentations here.
March 22, 2018: Valerie successfully defended her Master's thesis on the Birkhoff von Neumann decomposition. Congrats Valerie!
March 9-11, 2018: Katrina, Elizabeth and I gave presentations at the SIAM SEAS conference 2018. Rachel presented her poster and won a poster prize. Congrats Rachel!
Katrina was awarded the Givens Fellowship, Argonne National Laboratories. Congrats, Katrina!
Education
PhD, Stanford University, 2013. Advisor: Prof. Peter Kitanidis.
MS, Stanford University, 2010.
B. Tech, National Institute of Technology Karnataka, India, 2007.